A modern love story, told in verse, about two teenaged trans boys who name themselves after two Revolutionary War soldiers. A lyrical, aching young adult romance perfect for fans of The Poet X, Darius the Great is Not Okay, and Aristotle and Dante Discover the Universe.
A Million Quiet Revolutions in the Media
Lists
22 Books By Trans And Nonbinary Authors To Get Excited About In 2022 (BuzzFeed)
80 Queer and Feminist Books Coming Out Winter 2022 (AutoStraddle)
Must-Have 2022 Queer Book Releases (NerdDaily)
Reviews
ReadWithPride: A Million Quiet Revolutions by Robin Gow (NerdDaily)
"A sweet and highly earnest transgender love story." (KIRKUS)
Interviews
Brian Zepka, Robin Gow, and Queer and Trans Representation in YA Literature | Q:LV
---
We All Begin In Water And Are Called Back To The Water. Blue Blood Challenges The Rhetoric That Trans People Are "Unnatural" Through Captivating Verses About Metamorphosis And Meditations On The Concept Of Home. Robin Gow Invites Readers To Resist Imposed Gender Roles And To Celebrate Identity; To Question What Their Own Body Means To Them.
---
What are people saying?
Robin Gow's first full-length collection is full of verve, sass, mystery, and wonder. In Our Lady of Perpetual Degeneracy, Gow has made a family of queer angels and reclaimed saints in poems that are as finely crafted as they are magical and sincere. "There were no holy orders for women/or queers, so we made Poems, thrived hidden." Indeed we did and Gow's book is proof of the thriving. Thank the Holy Queer Mystery for these poems (and for all of our queer and trans lives) – like "hammers in/the flower vases. they bloom."
– TC Tolbert, author of Gephyromania and co-editor of Troubling the Line: Trans and Genderqueer Poetry and Poetics
Robin Gow's brilliant poems navigate the liminal world between religious figures and what remains to be figured out, between the real and the sexual and the realignment of expectations. An outspoken curator of sound and meaning, Gow is an accomplished spinner of metaphor, of emphasis, of surprise. Our Lady of Perpetual Degeneracy is the debut full collection from a visionary poet who wields craft with surgical precision, and leaves all of us questioning what we know, and what we recalled we once believed.
-Jaqueline Jones LaMon, author of Last Seen, Gravity USA, and In the Arms of One Who Loves Me
"[T]his is for girls who father each other," Robin Gow writes a quarter of the way through this mournful, joyful debut. Our Lady of Perpetual Degeneracy is filled with voices that echo into the losses and accumulations of growing up queer and Catholic: stigmatas, microwaved veggie burgers, and hints of more ominous violence. This a book for anyone who grew up a "a girl… but only approximately," a trans kinship deeply familiar to me and so many people I know—a thing that builds a degeneracy not just perpetual, but graceful and restorative.
-Zefyr Lisowski, author of Blood Box
---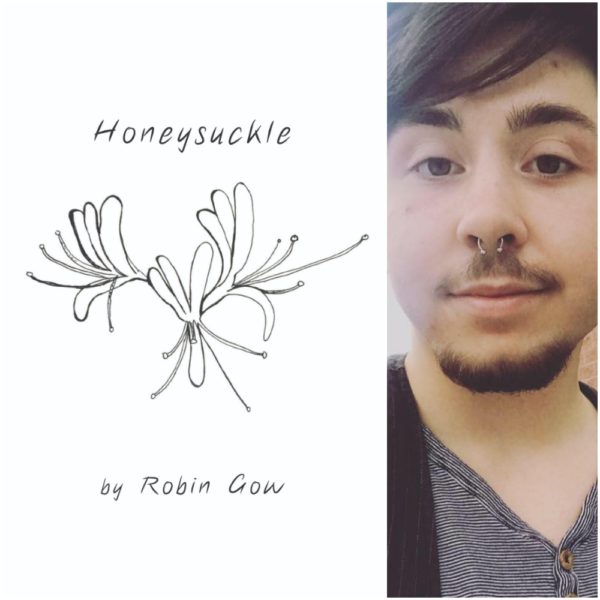 These witty poems. These serious poems. These poems of desire. These poems of transformation. Thank you Robin Gow for these poems in which you translate Ovid for the contemporary curious. I've checked my canoe for snakes, I've considered a history of Manus Hirschfield "untouched by forward." Your Swanson frozen dinners and Grindr and colors and flowers and insects all have names and something else as well: revelation and guidance. In this magnificent collection, Honesysuckle is both a proper name and an imperative.
–Judith Baumel, author of The Weight of Numbers, Now, The Kangaroo Girl, Passeggiate.